FoodSector is a company that specializes in carrying out tests that meet the standard set by PN-EN ISO / IEC 17025: 2018-02.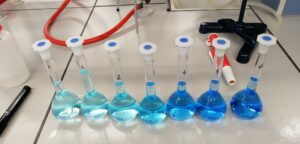 FoodSector offers you a wide range of accredited food tests, using:
Chemical laboratory – responsible for analyzing the basic physicochemical properties of food products:

dry weight / water content,

protein,

fat,

pH,

total ash,

ash insoluble in HCl,

total and reducing sugar content,

density,

viscosity,

dietary fiber,

salt.
and tests using spectrophotometric methods and high performance liquid chromatography (HPLC) and gas chromatography (GC), including determination of the content, among others.
total polyphenols,

total flavonoids,

fat-soluble vitamins (A, D, E, K) and water (C, B),

carotenoids,

catechins,

isoflavones,

sterols,

caffeine

organic acids,

preservatives (benzoic acid, sorbic acid and their salts).
Microbiological laboratory where microbiological tests are carried out, among others

Campylobacter,
Clostridium perfringens,
Cronobacter,
Enterobacteriaceae,
Escherichia coli,
Coagulase-positive staphylococci,
Listeria monocytogenes,
The total number of microorganisms,
Presumptive Bacillus cereus,
Salmonella Enteritidis,
Salmonella,
Salmonella Typhimurium.
Sensory analysis laboratory, where products are assessed in accordance with PN-EN ISO methodologies, including:

duo-trio method,

scaling method,

test of comparisons,

the even-numbered method,

the ternary method.
The results and test reports (also in English) are sent in paper form by traditional mail or in the form of a file by e-mail.